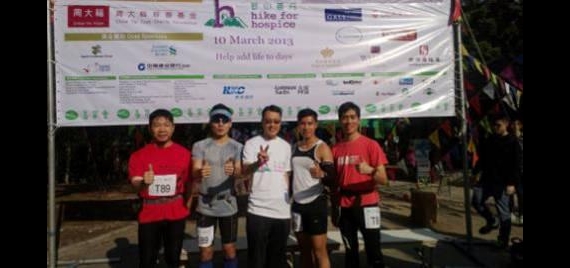 RFID system for the Hike for Hospice 2013
Hike for Hospice, the SPHC's (Society for the Promotion of Hospice Care) flagship fundraising event, has been organised since 1992. A different beautiful and challenging route for hikers is picked every year. Hike for Hospice 2013, has 600-800 participants and is held in the Tai Lam Country Park in the early morning of 10th March.
HKC has applied RFID (Radio Frequency Identification) system for the overall system operation. System application aims to increase hiker enrollment efficiency and increase accuracy and efficiency of data capturing for the participating records to eliminate human error, operation process and time. An identification badge with RFID technology is issued to each participant for recording simple personal information, pre-defined route path, timestamp at each checkpoint and monitoring information. When hiker arrives at every checkpoint, the hiker is required to show identification badge to staff upon the mobile device for checking in. Mobile device will inform hiker this checkpoint arrival time, the next checkpoint information, and also the checked-in time will be stored in both identification badge and mobile device. When the hiker completed the route and arrived at the final checkpoint, the mobile device at the final checkpoint will show all the information of the hiking and and related details, e.g. split time between checkpoints and total time used.
The system has increased accuracy and efficiency of data capturing of hikers. It also facilitated the fluency of the entire event and the final preparation of the results. HKC's RFID system has totally met the client expectation and we are pleased to help our client deliver overall customer value to all the hiking participants. With such successful and meaningful experiences, HKC foresee RFID solution will be brought to more sportive application area.