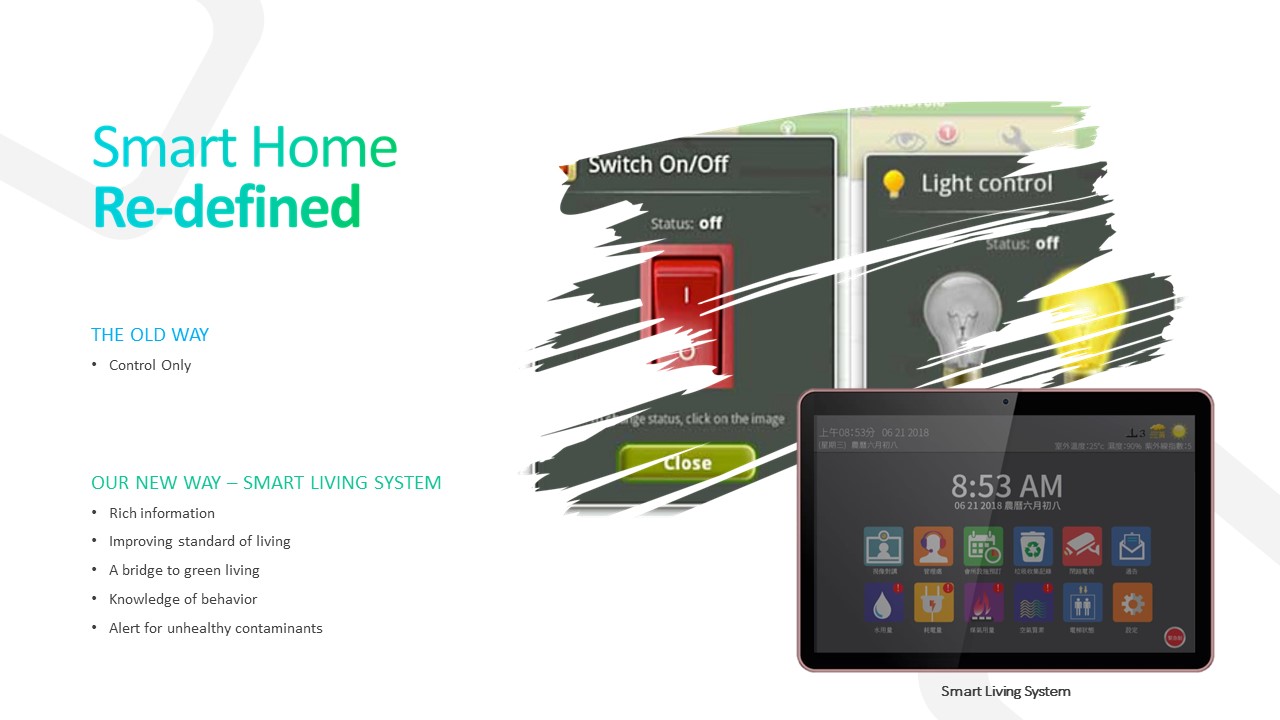 Our corporate mission is to improve the quality of life through Information and Communication Technologies. We endeavor to make use of innovations and technologies to improve people's quality of living as well as delivering sustainability, efficiency and safety; hence our continuing and extensive investment into the research and development of autonomous systems and internet-of-things applications.
Smart Display User Interface
The Smart Display System (SDS) for New Buildings is an intelligent platform for internet-of-things (IoT) devices. The system, includes sensors and energy meters, can empower building residents and property managers with relevant and timely information to lead a healthy and green lifestyle, and to manage the building efficiently respectively.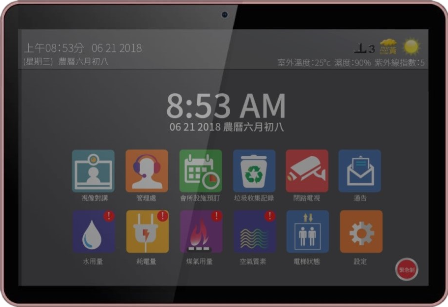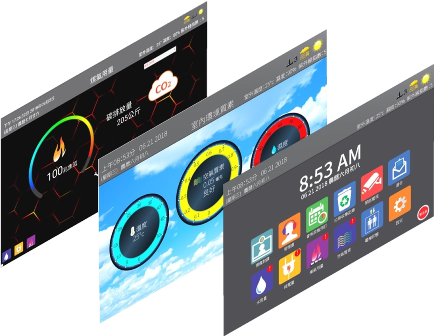 Home Energy Consumption Information System
This Power / Gas consumption function shows the current month's total consumption and its corresponding carbon emission value. You can display the data for the last 18 months by selecting from the drop-down box.
Waste Management Information System
The Waste Collection Information allows you to view current monthly totals for the various types of waste collected/recycled from your home. By selecting each of the waste type (General, Paper, Paper Box, Glass, Plastic and Aluminum), you can also view the month-by month collection history.
Home Health and Wellness Information System
This Air Quality function shows the current total volatile organic compound (TVOC), air temperature and air humidity in the room. The red dots along the rim of the three dials indicate the temperature, TVOC, and humidity. The face of each dial changes color to indicate the severity of the measurement. The possible colors are blue (Low), yellow (Normal) and red (Severe).
Building Management System
The BMS system provides e-notice, club-house facility reservation, lift status display, and common area CCTV viewing, etc.
Video Door Phone with Smart Visitor Panel and Face Recognition
Video Intercom is to be received on the Smart Display, located inside every residential unit. One smart visitor panel is provided to provide face recognition for resident entry and QR code / voice recognition for visitor calling.
Access Control Using QR Code and Face Recognition
Residents can generate a QR code from their Mobile App / Touch Screen at home to send to their guests via WeChat or WhatsApp. The QR code can be used to grant access to common area entrances, car park levels and facilities in club house. It is only valid for limited time as specified by the residents.
The residents can use the Smart Display at home to register and remove faces for granting access to the main entrance and other areas in the development.
The residents will be presented with usage agreement and disclaimers to seek their consents for use of their face data for this purpose so the personal data privacy ordnance is fully complied.