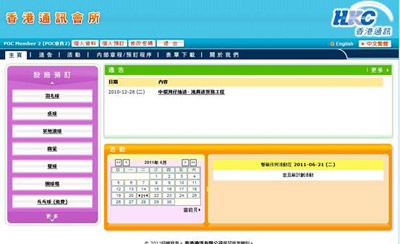 HKC Project Manager and his team provided an application that would fit in with completely online facilities bookings and would integrate properly with POS system. It is a self-explanatory bi-lingual system that appealed to the users was how well and ease they can make facilities booking, check the booking status, view the booking record and Notice Information and cancel the non-expired booking via Internet. Furthermore, the system allows the users real flexibility on the access from different mobile devices.
The e-booking system has placed security concerns for all users and operators. This includes a routine reminder to change password and random verify key is required while login the system and automatic lock of IP address if large amount of login retry is detected in short period.
The operators of HKPC are impressed by the user-friendliness and efficiency brought by this e-booking system, in addition to the customer service and technical support provided by HKC. The e-booking application absolutely helps members' management and membership database maintenance, drives member alerts in email format and facilitates reporting. Most importantly, this e-booking system creates a green (paperless) office and successfully brings in higher value and service level to all "customers".
Project Info
Category:

Smart Booking System

Client:

Police Force Club

Completed Date:

2016